Residential and commercial excavation is the process of removing soil or rock from an area using heavy machinery and tools, this much is true among both residential and commercial excavating. However, there are several key areas in which commercial and residential excavating differ, and before you begin your excavation project, you would do well to be up-to-speed on the key facets of your respective project type. In this article, we'll provide you a few tips on how residential and commercial excavation are different.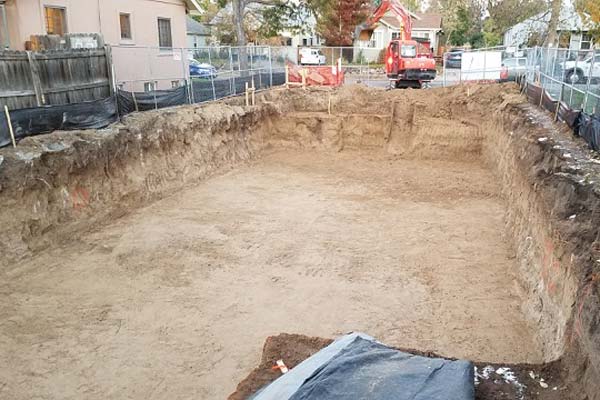 Size of the Project
Naturally, residential excavation projects are typically smaller in scale than their commercial counterparts – this is the biggest difference between the two. While excavation contractors may go about excavating for residential and commercial differently, the end goal for any reputable contractor is a job done right, the first time. Especially when working on sloped land, high water and poor soil, you need an excavation contractor that's certified and experienced – your building's foundation is not something you want to risk having to do over.
Complexity of the Job
For residential excavation, excavators will need to prepare the site and lay down the outline of the site you're excavating. The tools and equipment they'll need to accomplish this depends on the size of the project – larger projects may require more time and a heavier-duty set of excavation equipment. The time the dig process takes may also scale with the size of the job, as well as the depth of the dig and the conditions in and around the dig site.
Commercial jobs are often much more complex than residential projects. Commercial buildings often come complete with parking lots, underground garages, special structures, and other features that require a longer, more intensive process to complete. The larger the project, the more expertise is required from your excavating contractor, and so you are strongly advised to consider your excavating company carefully.
Different Codes and Regulations
Commercial excavation has more extensive regulations compared to residential work. This is because there are other things to be considered such as the techniques used, electrical, plumbing, zoning laws, and getting the equipment physically to the jobsite. Choose the right commercial excavating contractor to avoid problems with the federal and local governments. Make sure they're well-versed with all the rules that need to be adhered to especially when it comes to safety.
Contact Colorado Excavating for Commercial Excavation
We are a full-service excavation repair company that can help with both residential and commercial excavation projects. Our team of experienced professionals can also help with sewer, demolition and stormwater management. We're fully equipped to work on any excavation project, big or small. Work with us and our excavators will make sure the project is properly carried out and you're completely satisfied with our services. Contact us today for an appointment.