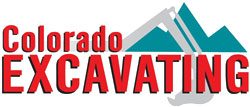 Colorado Excavating
is a full-service demolition, excavation, water, and sewer repair company. The majority of our work is residential but we can work on commercial projects as well.
We have over 50 pieces of big equipment and our services cover the Denver metro area.
To request a quote for your residential/commercial sewer line, excavation, and demolition needs – give us a call or send us an email on our contact page.