Colorado Excavating provides cost-effective solutions to meet stormwater management guidelines requirements. We will work with you to help you understand the stormwater management requirements for your project and can even help with permitting when needed.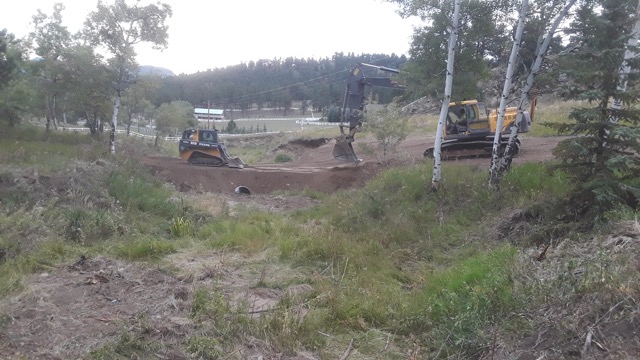 Stormwater Management
Our stormwater management services include:
Detention Ponds: A basin that is shaped like a bowl in the earth and designed to receive and hold runoff that is to be released at a predetermined rate. This helps in reducing the peak runoff that is delivered to storm sewers and streams. The ponds are structures in the earth constructed either by natural depression, impoundment, or excavation of existing soil.
Sediment Basin: A temporary pond that has been built on a construction site to capture eroded or disturbed soil that was washed off through rainstorms, and protect the water quality of a nearby river, lake, stream, or bay. The sediment-laden soil then settles into the pond before the runoff is discharged.
Underground Detention Systems: Also known as an underground pond, it is often used in new developments to detain and slowly release stormwater. This pond allows the area to serve dual purposes – by enabling the space to be used for stormwater parking and storage.
Culverts: Functions mainly as hydraulic conduits, moving water from one side of a roadway or traffic embankment to the other; therefore, culverts serve dual purposes: 1. functioning as hydraulic structures and 2. acting as traffic load-bearing structures.
Rip-Rap Outfalls: Riprap slopes and outlet protection is an arranged layer of rock placed on top of the soil surface on slopes or below the storm drain outfalls or temporary dikes. Riprap is used as slope protection against erosion and dissipates the energy of surface or runoff water flow.
Drainage Swales: Swales are designed to follow the contours around the base of a created or natural slope, filtering any and all runoff, then redirecting the stormwater as it sinks into the earth's soil, instead of keeping it in one general place, like a pond or rain garden. Plants suck up the water along the swales sloping banks as the water runs down the channel.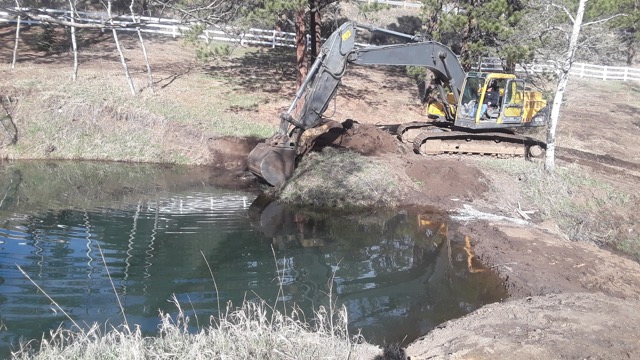 We also provide temporary erosion control such as silt fencing, straw waddles, clearing, grading, vehicle track out pads, subgrade stabilization, etc. 
Colorado Excavating's construction team is experienced in these types of stormwater management as well as other erosion and sediment control techniques.
Stormwater management is seen as a high-demand job that is needed and will innovate water solutions. One way stormwater management supports green infrastructure is by collecting rainwater and sending it to natural systems that do infiltration and pollutant removal.
Water management is transitioning to multi-purpose systems specifically designed for wastewater, drinking, and storms. These systems are involved in hybrid systems utilizing centralized and decentralized elements. They also can give adaptable solutions to manage the rainwater.
This will minimize the impact of the development on the water cycle. Instead of using gray infrastructure, it's best to transition to using a more natural process to manage runoff at a source with a lower cost. It's possible to use the water management features in urban living space, domestic gardens, plazas, and streets.