Colorado Excavating is a fully licensed and insured contractor for underground sewer line repairs. Our team has decades of experience and has helped repair sewer lines all over the Denver area.
Sewer lines can burst, fail or degrade over time. Temperature fluctuations from cold to hot, shifting of the supporting soil that naturally occurs, the buildup of mineral deposits, and even the unavoidable presence of water pressure can eventually compromise the strength and structure of the sewer line.
Common Signs of a Broken Sewer Pipe
In most cases, issues like the ones listed below can be avoided with proper maintenance, care, and installation of sewer lines. If no regular checkups are done and the sewer is used improperly, serious issues can occur. These are the most common signs that your sewer line is broken:
Your toilet, sink, or bathtub is making strange, gurgling noises
An odor of sewer gas
Multiple plumbing fixtures that drain extremely slowly (or not at all).
More than one sink, bathtub, or toilet backed up with sewage
The basement or backyard of your home is smelling strongly of sewerage
Your lawn grows greener and more lush around your sewer pipes and other areas turn brown
Your lawn is wet, flooded, or feels soggy
Cracks in supporting walls or foundation due to a broken sewer line washing away supporting soil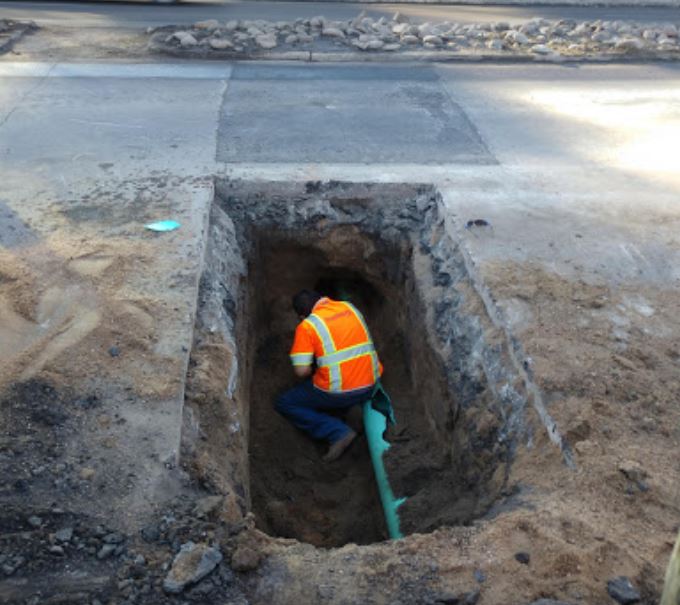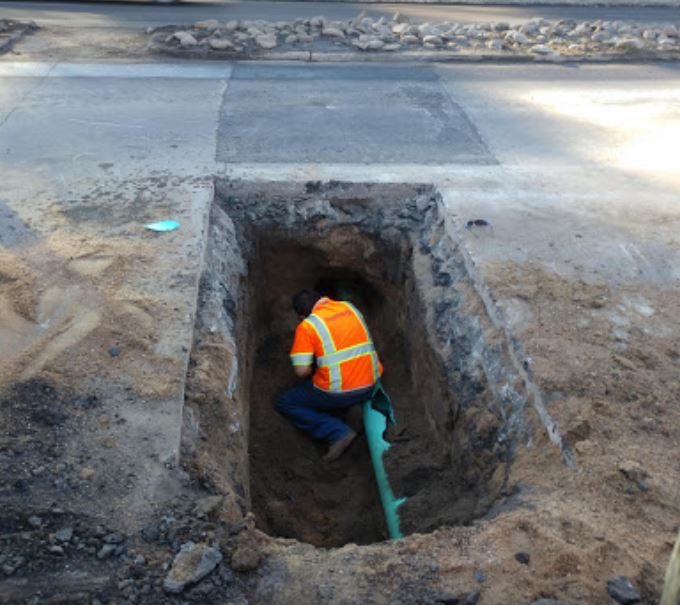 Sewer Line Repair Types
The oldest, most intensive, and often unavoidable method of repairing sewers is digging trenches. This technique was invented by Roman Empire and is still done today, after thousands of years of technological progression, we use innovative machinery and manual power when site-specific characteristics require it. Trenching is required when sewer pipe repair is not possible because it is too damaged and needs to be replaced.
A trenchless sewer line repair can also be performed, even when a part of the piping needs replacement. While this method requires more complex machinery, including special cameras to see what is causing the blockage or how the roots are damaging the pipes, one of its biggest advantages is that it is much less intrusive to the surrounding environment. This can be especially helpful if your sewer lines run under an esthetically pleasing garden or pool, where trenching is not possible or would make the process much more expensive.
Both options have their pros and cons, so it is best to call the professionals at Colorado Excavating when deciding which one fits the issue ahead.
The Process of Sewer Line Repair
Before the sewer pipe repair process can be started, we would need to identify the cause of the issues. Depending on how severe the damage is, we will help you find an economical, long-lasting solution. In many cases, we will use sewer line scoping to determine the damage prior to providing a solution.
Sewer Line Repair Options Include:
An inflatable hose in epoxy can be inserted into a sewer line if the damage is relatively small. Once the hose is inflated, it is pressed against the existing sewer line. In the next step, the epoxy cures to seal the leak. The inflatable tube is removed once the leak is properly sealed.
A burst or severely damaged pipe cannot be repaired with pipelining, so a trenchless repair is required. This involves technicians inserting a cone-shaped device through the existing sewer line.
If the entire sewer line needs to be replaced, or trenchless repair is not possible at that location for some reason, a trench must be excavated along the entire length of the damaged pipe.
Our customers are the most important part of our business at Colorado Excavating. Our technicians are not only well trained and experienced, but also honest, friendly, and trustworthy.
We offer a 100% satisfaction guarantee on all of our products and services. If you are looking for a sewer line repair service or are not sure if and where there is damage, give us a call – we will be happy to help!