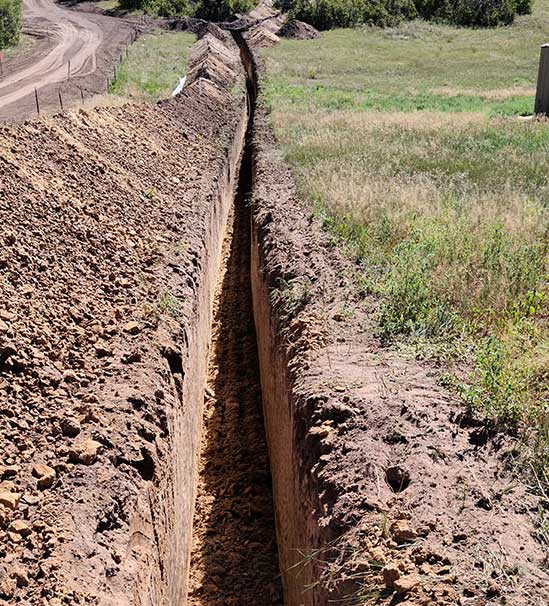 Colorado Excavating is the best choice for your underground utility excavation & trenching in metro Denver. We are locally owned and operated and have been providing grading, trenching, and excavating services all over the metro area.

We have completed tons of successful jobs, and everyone on our team has years of experience and can work on electric, gas, cable, telephone, water, sewer, and septic lines.

Depending upon the specific needs of your project, we can perform any of the following projects for you:

Main line installation
Asphalt / concrete demolition
Trenching
Backfilling and resurfacing
Underground pipe installation/replacement
Soil compaction
Asphalt paving and concrete work (repairs)
Because underground utility conduits are connected to some powerful main lines, every aspect of the job must be done correctly and with the utmost attention to safety and quality.

With Colorado Excavating, you can be confident that your project will get done right the first time, every time. It's why developers and contractors have trusted us throughout Denver, and most of our business comes directly from client referrals.
We adhere to the industry's best practices for utility trenching and installation and can handle all of the required permits and inspections. All of our work is done to code and guaranteed.
Utility trenching is seen as one of the many services that American mechanical provides.
Trenching is the process of excavating below the ground and usually has a depth longer than its
width.
For most projects, it's required to dig a trench to install a utility foundation. This is what
Colorado Excavating specializes in, as it is the foundation of construction. We prioritize our
safety, and it's the reason why our jobs are accomplished with assurance.
Utility Excavation/Trenching Plan
Understanding the process of trenching is critical to have a successful utility installation. It's a
guarantee no detail will be neglected, it's why we take our planning seriously into this type of
work.
One of the biggest parts of digging trenches is setting lines for either dry or wet utilities. When
the job is being done, it's necessary to make sure the project manager is well informed about the
terrain and around the area. The important part of the job is making sure you're not running into
other lines.
Dry & Wet Utilities
When installing dry utility lines such as gas lines, they need to consider environmental factors,
following the state and federal regulations and making sure trenches are properly dug correctly.
When installing wet utility lines such as wet lines, the same regulations apply.
The utility process can be convoluted, as it may involve excavation, grading, demolition, and
installation of lines. It's a serious job not to be taken lightly.
Colorado excavation guarantees the best services for digging trenches or ditches for construction
projects. We're equipped and ready to take on any task that we encounter.
We take pride in our care, yet we make sure that our workers are well trained, our leaders are
knowledgeable and qualified, making sure our process is conscientious and detail-oriented. If
you're looking for someone who knows how to install dry or wet utilities, contact us today.