Do you have a project and need professional excavation services? This is essential to making sure your project is constructed correctly from the very beginning. When done correctly, it provides a solid foundation on which to build any project.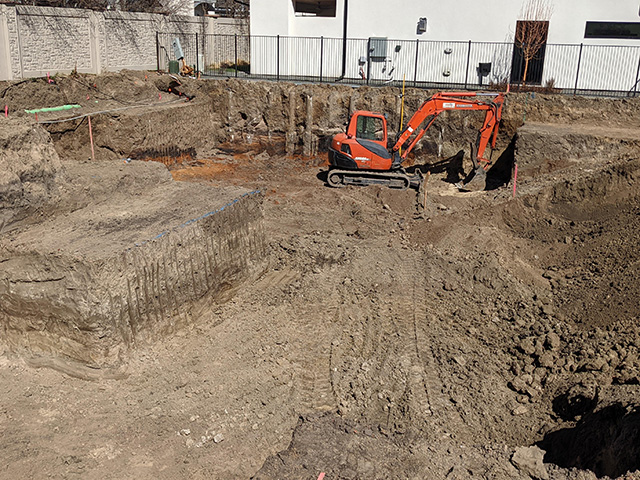 Before we get started, you must do the ground tracing process and lay down the center lines. Once it's marked on the ground, you will stretch a string between wooden pegs.
We combine the correct equipment and technology and our experience to guarantee that your job is done in a timely and efficient manner. Our expertise and innovation make us the best choice for your job.
Ground tracing is where we lay down the excavation lines and center lines etc.; this is done
before the excavation is started. For example, the centerline of the longest outer wall of the building is marked on the ground by stretching a string between 2 pegs. This setting out process gives us the proper guidelines for the project.
Some of the services that we offer:
Sitework
We offer industrial, commercial, and residential site development. Our experience with the site
development and construction is ideal for businesses, homeowners, and land developers looking
to build a new project.
Large Excavations
We have a wealth of knowledge on all types of soil conditions and procedures to perform largely
excavation projects throughout the metro Denver area.
Services Include:
Grading/Leveling Services
Backfill
Basement Excavation
Foundation Work
Erosion Control
Another important part of the construction process is backfilling. This begins right after the
excavation process when the soil is compressed back into the trench. This supports roadways,
foundations, walkways, and other structures related to using a mixture of soil.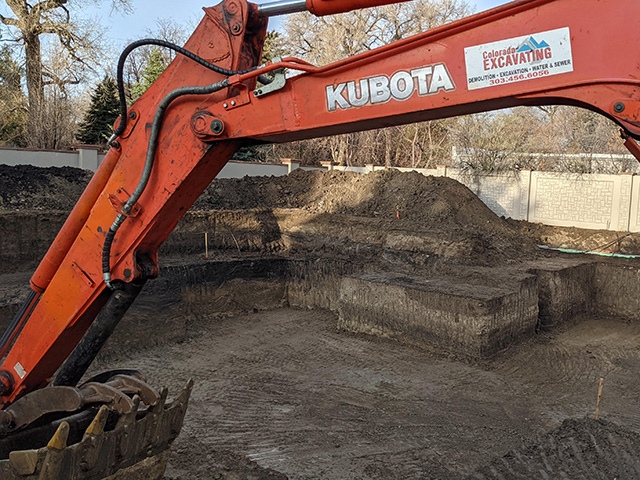 The process of backfilling is putting the soil back into a foundation or trench once excavation has
been completed. The process of backfilling requires heavy equipment and skills, soil conditions,
and an understanding of the specifications.
When placing or compacting backfill, the crew must take care to prevent impact loading of any
pipeline, cabling, shaft, structure, or other buried components. There are a few techniques for
backfilling and compacting the soil. We always take special consideration when compacting and filling
trenches for utility lines.
To prevent safety issues, you need the proper sequence of backfilling and excavator tasks. The
essential parts of the construction process are the excavating and backfilling of soil, and
responsibility must be taken from a safety perspective to ensure the job is done right.
During excavation, you may encounter different soil layers, and dewatering may sometimes be needed.
We have the experience to determine when and how dewatering should be performed to ensure your excavation goes as smoothly as possible.
Backfilling Quality Check
– Record the ground level
– Make sure the sample is approved for backfilling
– If necessary to create reference points are settled for the final level of backfilling
– Backfilling is being carried out in layers from 15cm to 20cm
– Watering is required, compaction is now completed
– The density that is required is accomplished